The stainless steel knife set is magical. It includes 5 different knives that are butcher chef, Santoku, steak, and paring. Therefore, the complete set is excellent to do various kitchen tasks. Chefs primarily use a butcher for larger meat blocks. Cooks use a chef knife for cutting, disjointing, and chopping cooking ingredients. Santoku knives are ideal for mincing, dicing, and slicing purposes. People usually use a steak knife for cutting and serving steaks. In the end, the small but mighty paring knife is best to cut, chop, or slice fruits and vegetables. This stainless steel knife set fulfills the basic need of every kitchen.
This stunning article set is completely stainless steel. Stainless steel contains a high sum of chromium and less carbon. Adding more carbon wouldn't make it stainless or rust-free. That's why a higher amount of chromium is preferable. The method of manufacturing this is to forge the blade until it changes shape at 1000c. Craftsmen use this popular method to make swords or knives.
All 5 knives have marvelous stainless steel blades and eye-catching rosewood handles. Furthermore, they have multiple uses and perfect sizes. The overall length of the butcher knife is 13″ with having 8″ blade and 5″ handle. Whereas, the total length of the chef knife is 12.5″ where the blade is 8″ and the handle is 4.5″. Contrary to this, the Santoku knife heads up to 11″ in total, having a 6.5″ blade and 4.5″ handle. Furthermore, the steak knife is 9.5″ with 5″ of blade and 4.5″ of the handle. At last, the paring knife is the smallest but the mightiest knife having a total length of 8″ with a 4″ blade and 4″ handle. This stainless steel knife set is perfect for daily use.
Manufacturing Method: Handmade
Blade Material: Stainless Steel, Razor-Sharp
Handle Material: Olivewood with Brass Rivets, Full Tang
Hardness: 50-60 HRC
Set Weight: 2000g
Overall Length:   12.5 inch
Blade Length:      8 inch
Handle Length:   4.5 inch
Blade width:        3.5 inch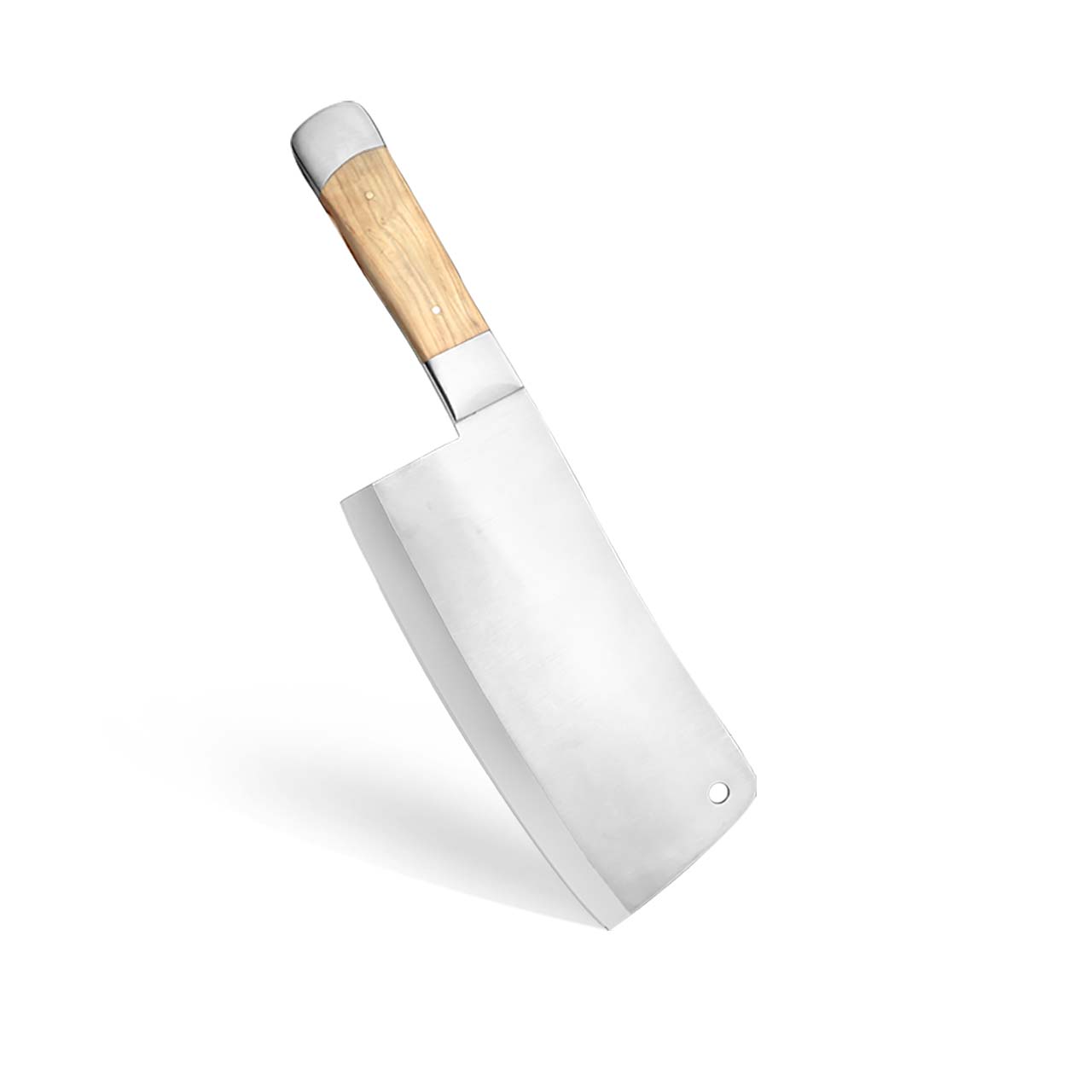 Overall Length:  9.5 inch
Blade Length:     5 inch
Handle Length:  4.5 inch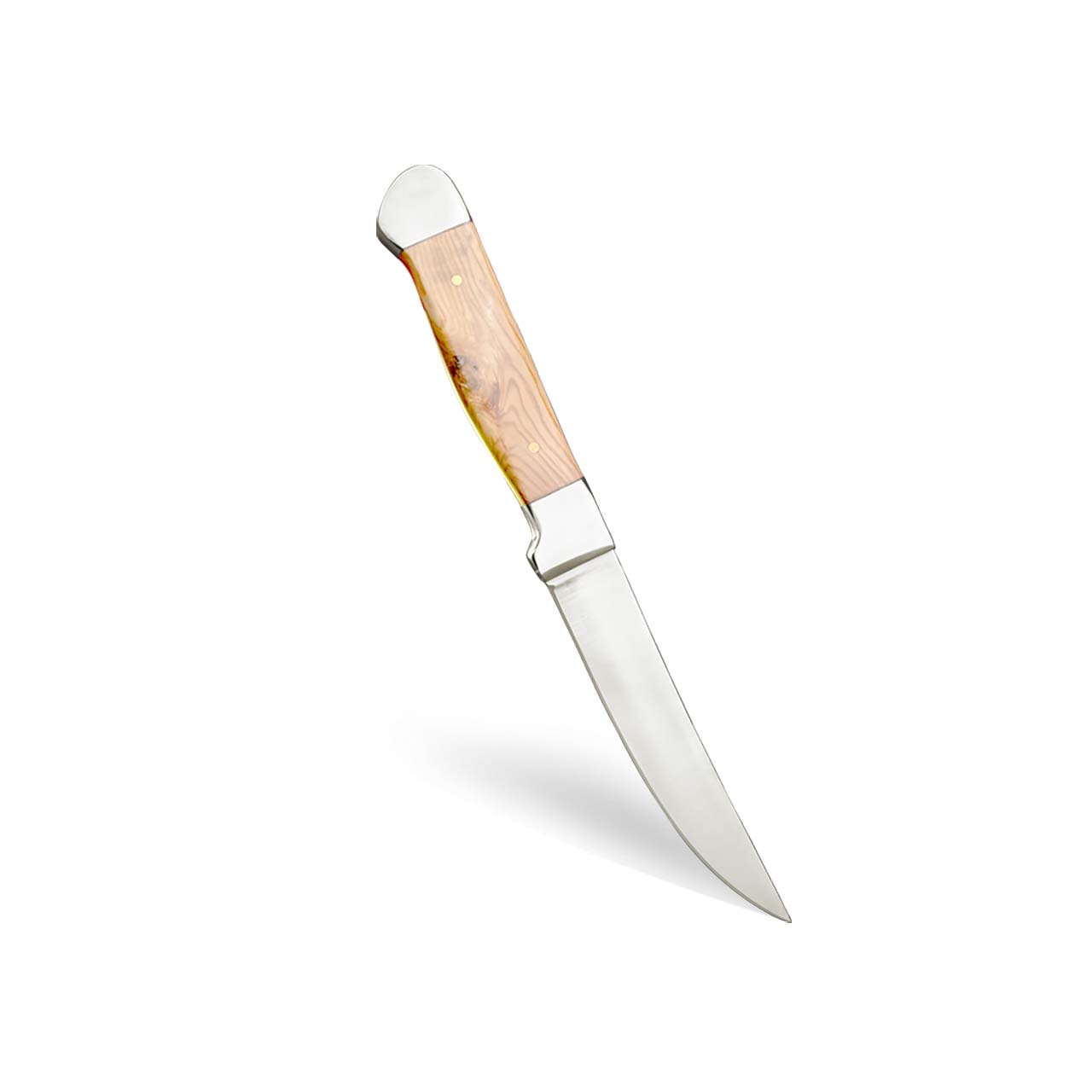 Overall Length:   12.5 inch
Blade Length:      8 inch
Handle Length:   4.5 inch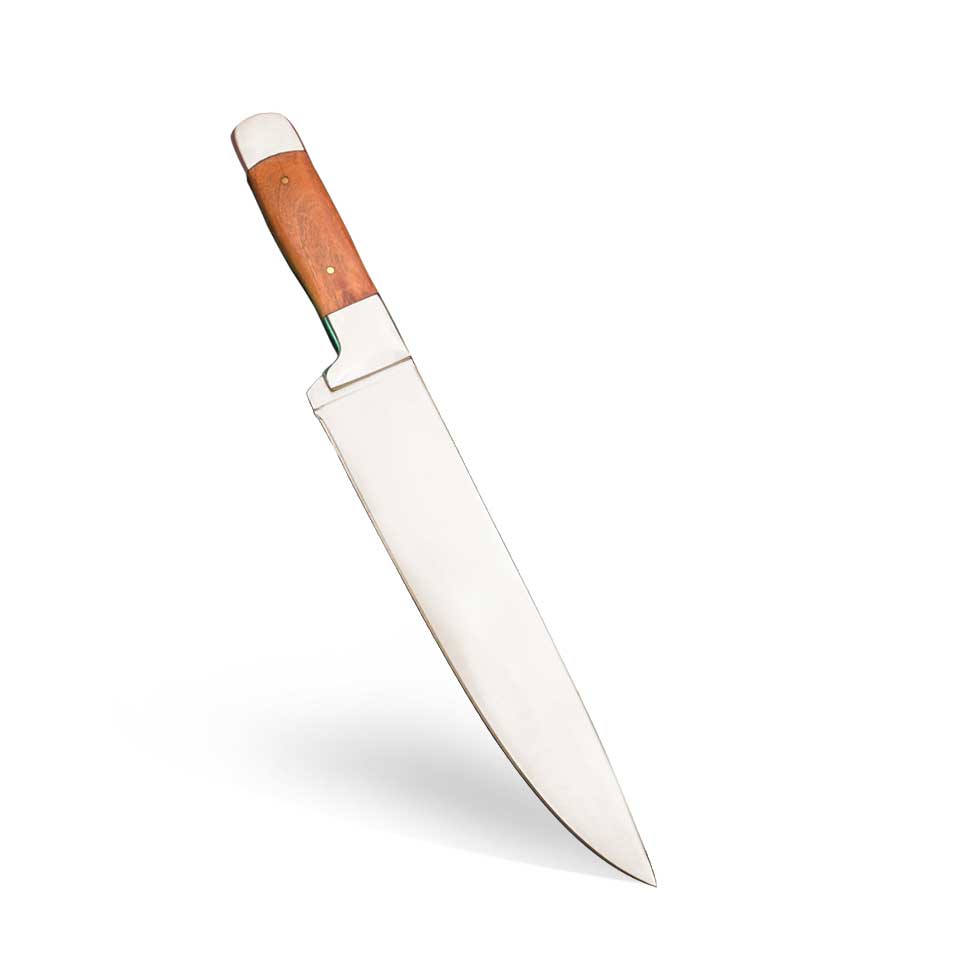 Overall Length:   8 inch
Blade Length:      4 inch
Handle Length:   4 inch