Hand engraving on metal started sometime around the 5th century BC. Furthermore, around the 15th century, nobles hand-engraved everything from rings to swords. Today, only a few engravers have a grip over this unique technique that makes hand engraved knives. To find out more about the history,
Forms, Inspired by Nature.
Hand engraving is a family heritage of a small tribe of the people from mountains. Today, there are only three to four old men that can hand engrave using only a chisel and a small hammer. Their white hair can tell us for how long they have been making this art. Furthermore, it's truly magnificent to watch them make flowers on tough steel.
Fusion brings you two limited edition hand engraved knives collections :
1. Sällsynt is a custom engraved knife that has a beautiful swirl hand engraved pattern and a pattern in the middle, completely of your choice.
2. The Pergamino collection with three uniquely hand engraved knives. Moreover, these knives also have stunning hand engraved patterns.
Sällsynt, meaning rare in German truly identifies the Fusion hand engraved knife. We can proudly say that this is the only chef knife that gives you an option to engrave it according to your choice. Moreover, the handle has a hand-engraved pattern as well. In addition, each pattern on the knife is also hand and custom made. This limited hand-engraved piece of art is exceptional.
Here are some ideas for the engraving in the middle:
Multiple images to show a picture story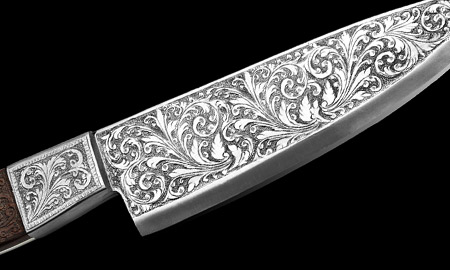 Spring is in full force. Consequently, all kinds of plants are growing at a rapid speed. This vine is one of them. Similarly, as compared to the other hand engraved knives, this one has tremendous energy. Therefore, it has taken multiple directions. From the tip of the knife to the handle, it has taken up every space available. Moreover, even the bolster and the wooden handle now have the beautiful vine of the Japanese valley.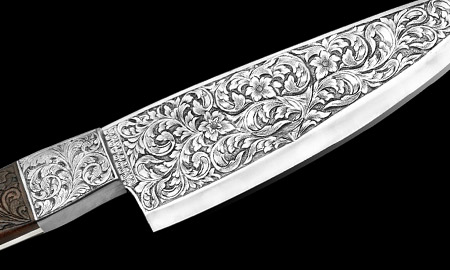 It's late spring. The vines on the foot of the rolling hills of Kashmir have spread in all directions. Similarly, flowers start to bloom now. Notice the two flowers on the knife. Moreover, the one near the base of the plant (toward the handle of the knife) is bigger. Whereas the other one, which is away from the base (towards the tip of the knife), is smaller.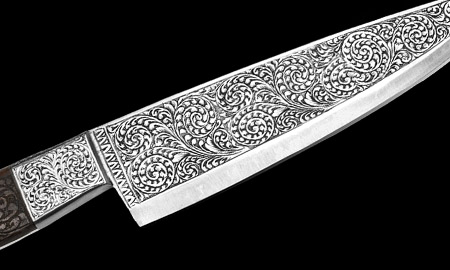 It is early spring. Snow has just melted, allowing plants to grow and bloom. Likewise, this vine has woken from its winter sleep. Therefore, its leaves are still small and delicate. They are swirled as they wait for the temperature to rise. However, the hope for a good spring is visible as the swirled vine has taken up every space available on the knife.
The blade - shape and material
Machines are fine, but some things are better by hand, and making a knife's blade is one of them. Hence, we make the blade of this knife by hand.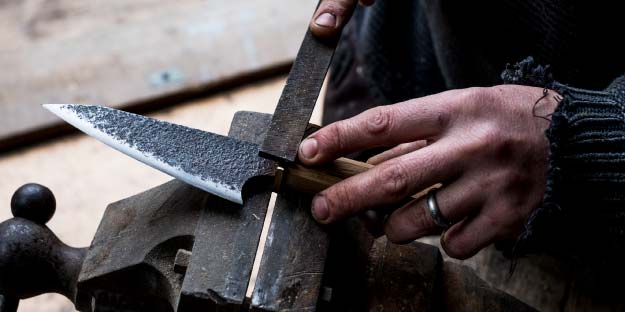 Gift packaging - for someone special
These hand engraved knives come in a unique handmade genuine leather sheath. Therefore, this sheath will keep your hand engraved knife safe. Moreover, the knife is then packed in an elegant black box and sent your way! In addition, this unique gift is for sure the most perfect and spectacular gift that you can send to someone.