Handcrafted Knife set that is unique and durable
Are you a creative, non-conformist person? Do you like more colorful and aesthetically pleasing things around you? Then this is one knife set you got to have in your kitchen.
Why have that dull knife with a grey blade and a black (or brown) handle when everything around you is more colorful and exciting? Sure some people believe that a good knife has to look dull. That is a feature of a knife some of us have associated with quality and durability unnecessarily.
However, a knife can be pleasing to see as well as durable. Indeed, this smart & sharp custom handmade Damascus knives set is a perfect example of that.
Indeed, these knives are durable and sharp, with a blade tested at 56 on the Rockwell scale. Moreover, they won't break, chip or crack if you drop them from your hand, guaranteed, or we will replace them, no questions asked. That is essential because breaking and chipping are some of the most common problems knife users face worldwide.
The Mesmerizing Damascus Patterns
Furthermore, you get this strength on top of the beautiful Damascus patterns on the blades of this knife set. Undoubtedly, the mesmerizing design on this knife set comes only through dedicated forging done by our experienced artisans. There are no machines or robots. It's all done by hand, one knife at a time. Hence, you will notice something unique, something special about every one of the five knives in this set.
Furthermore, all knives in this set are full tang. In other words, the blade runs back of the handle. Therefore, unlike those knives with half tang handles, these knives give you better control in cutting. Moreover, each knife has a half bolster, increasing its strength without increasing its weight.
Finally, the most exciting part is the handle. Indeed, these knives have the most colorful handles of any knives available. They are carefully created by cutting and coloring camel bone. Indeed, each handle is hand made from eight camel bone squares. Indeed, creating such a handle is an art form that only a few can perform in the world. In other words, the grip of these knives is a centuries-old tradition passed on from one generation to another.
Care Instructions for your knives
Use a cutting board.

Keep them sharp

Hand wash with soap (do not wash them in a dishwasher)

Dry them with a cloth (preferably a cotton cloth)

Do not leave in water for a long time.

When not in use for a long time, use any food-grade oil (coconut, olive) to coat your Damascus knife. It will protect the blade from catching rust.
If your Damascus knife gets rusted, use steel wool or 000 sandpaper to rub it off.
Manufacturing Method: Hand-Forged
Blade Material: Razor-Sharp, Damascus Steel

Handle Material: American Wood and Camel Bone, Half Tang
Hardness: HRC 50-55
Sheath Weight: 317g

Overall Weight: 1633

Number of Knives: 5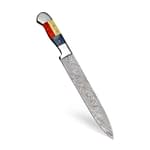 Overall Length:   13 inch
Blade Length:      8.5 inch
Handle Length:   4.5 inch
Knife Weight:      310g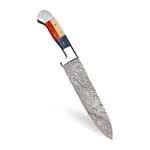 Overall Length:   12 inch
Blade Length:      7 inch
Handle Length:   5 inch
Knife Weight:      310g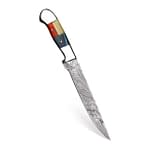 Overall Length:   11 inch
Blade Length:      6.5 inch
Handle Length:   4.5 inch
Knife Weight:      213g
Overall Length:   12 inch
Blade Length:      7 inch
Handle Length:   5 inch
Knife Weight:      310g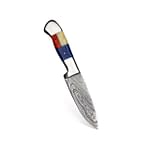 Overall Length:   8 inch
Blade Length:      4 inch
Handle Length:   4 inch
Knife Weight:      173g