Set of 5 best knives for chefs 
Are you a creative, non-conformist person? Do you like more colorful and aesthetically pleasing things around you? Then these best knives for chefs are something you have to have in your kitchen. In addition, this knife set has amazing details. 
Handcrafted Damascus knives

Razor sharp

Durable wood and bone handle

Rivets and bolster
Inside the knife set (left to right)
      1. Carving/slicing knife
You can say that these knives are beauty with an edge. Moreover, they have beautiful handle, blade and specifications. The carving knife is a perfect slicer with its excellent sharp edge. 
      2. Chef knife
Furthermore, this Chef knife is for sure everyone's favorite since it's a perfect all-rounder. You can use it for all sorts of meal preps be it meat, veggies or fruits. Moreover, best for chopping, slicing and dicing. 
       3. Boning knife
This is no doubt one of the best knives for chefs. Therefore, this equipment separates a bone from meat or cleans a fish better than a boning knife. 
       4. Butcher knife
A butcher is the mightiest knife of all. That's because, it can chop up big blocks of meat in seconds. Hence, it's a must-have!
       5. Paring knife 
It might be tiny but it can tackle fruits, veggies or any piece of meat. Moreover, it gets straight inside the ingredients because of its perfect size. 
Care Instructions for your knives
Firstly, use a cutting board

Hand wash (do not wash them in a dishwasher)

Dry them with a cloth 

Moreover, don't leave in water for a long time

When not in use for a long time, use any oil to coat the knife to protect from rust

In-case rusted, use steel wool or 000 sandpaper to rub it off

Most importantly, have fun using Fusions best knives for chefs
Manufacturing Method: Hand-Forged
Blade Material: Razor-Sharp, Damascus Steel

Overall Handle Material: American Wood and Camel Bone, Half Tang
Hardness: HRC 50-55
Sheath Weight: 317g

Overall Weight: 1633

Number of Knives: 5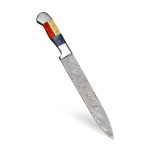 Overall Length: 13 inch
Blade Length: 8.5 inches
Handle Length: 4.5 inches
Knife Weight: 310g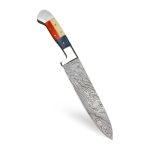 Overall Length: 12 inch
Blade Length: 7 inches
Handle Length: 5 inches
Knife Weight: 310g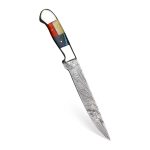 Overall Length: 11 inch
Blade Length: 6.5 inches
Handle Length: 4.5 inches
Knife Weight: 213g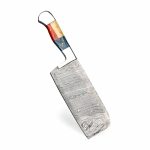 Overall Length: 12 inch
Blade Length: 7 inches
Handle Length: 5 inches
Knife Weight: 310g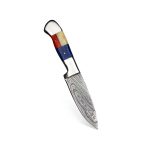 Overall Length: 8 inch
Blade Length: 4 inches
Handle Length: 4 inches
Knife Weight: 173g